So, you are considering Cremation...
Has anyone ever taken the time to fully explain all of the options that are available to you?
Cremation is simply one way of preparing your loved one for remembrance and memorialization.
Many people think that cremation is the final step, but it is not. There is still a need for a meaningful gathering to celebrate the life of your loved one and to assist friends and family in the grieving and healing process.
Most people believe a final resting place with memorialization is needed for their loved one. This gives family and friends a way to honor their loved one and remember their life. It allows future generations the ability to discover their family history and connect with the past.
Sometimes people wish to keep the remains at home, but that keeps others who love that person from being able to feel close. Being responsible for an urn, or many urns over the years, can be an emotional burden for the family, especially if the urn is ever misplaced.
Click here:
Cremation: Final Placement Choices
We offer: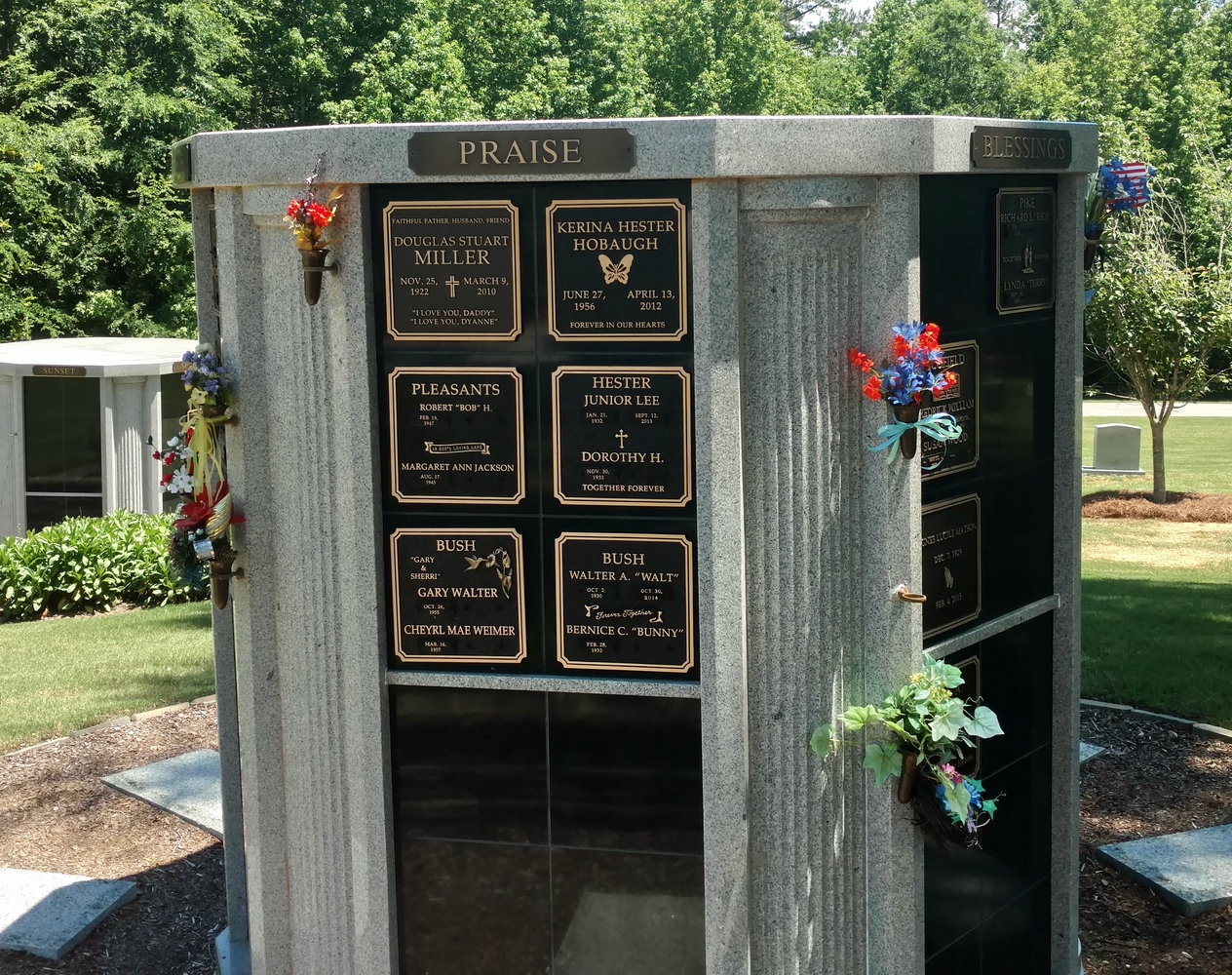 Cremation Niche: an above ground space to accommodate a cremation urn with a memorial marker. May have a glass or stone front and may be for one or two people.
Urn Garden: burial of an urn in the ground in a section dedicated for cremations only.
Scattering Garden: a separate garden area for the scattering of a loved one's cremated remains with a name and dates scroll.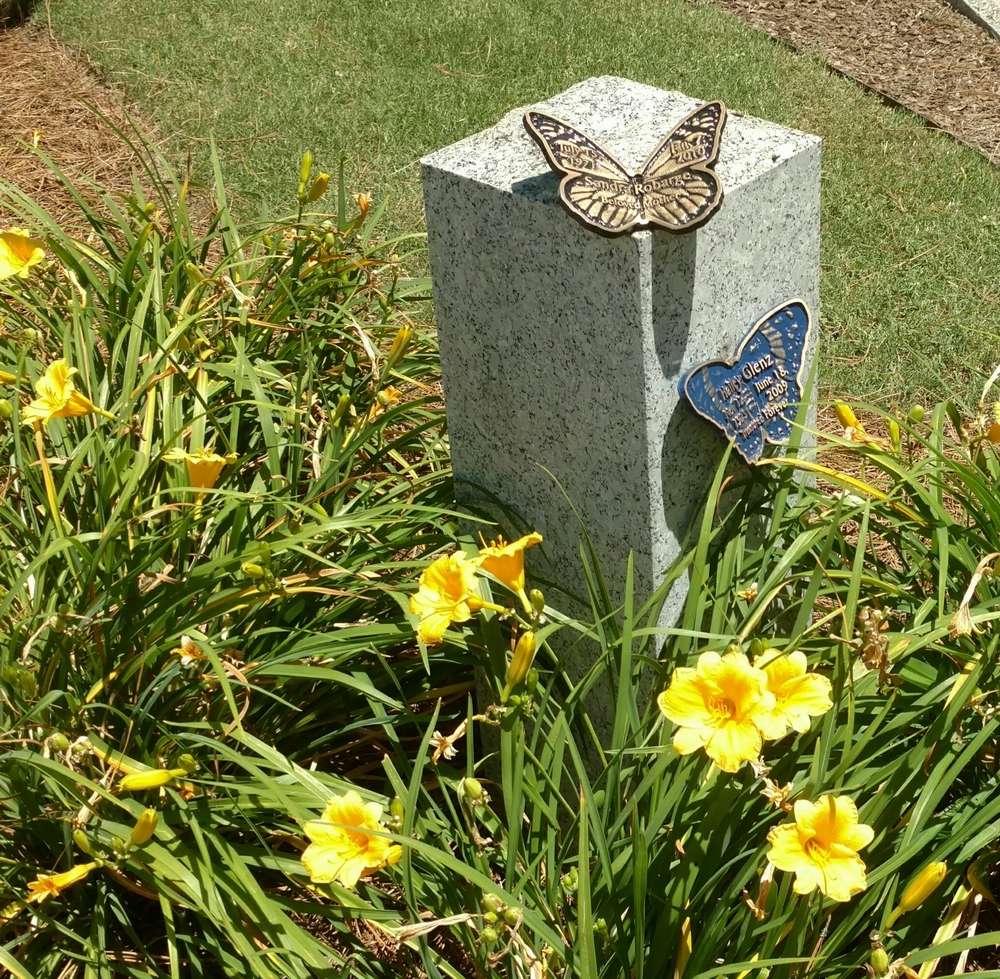 Butterfly Memorials: honor your loved one's memory with a bronze butterfly.

Memorial and Cremation Benches: a bench that may hold your loved one's cremated remains and have their names and dates engraved. A place to sit and remember...
Memorial Trees: a red bud, flowering cherry, dogwood, or crepe myrtle is planted and a bronze memorial marker with names and dates.
Cremation Family Estate: a columbaria to hold the cremated remains of 2 or more people. It can serve as a family monument.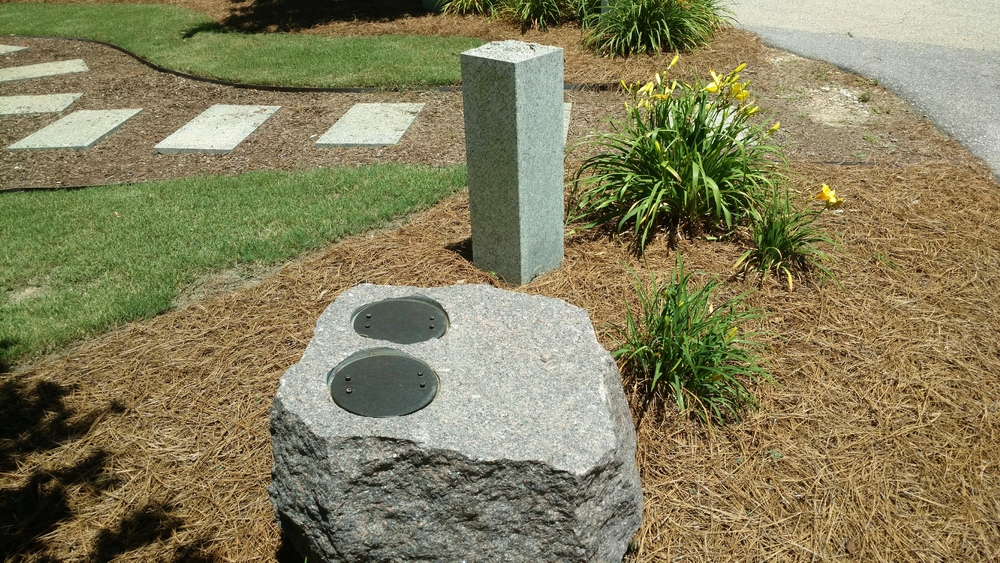 Nature Rock: a large granite Boulder placed under a tree, or other area, that contains the cremated remains. A bronze name and date memorial is secured to the rock.
You can relieve the burden from your loved ones by choosing a final resting place in advance. This permanent memorial location gives families, friends and future generations a place to remember, pay tribute, and helps with the healing process. Having a specific place to go with permanent memorialization gives a focal point to aid in healing and closure.
Having your remains at a cemetery ensures that future generations will have a place to go and remember that will always be protected, maintained and preserved.
When a loved one's cremated remains (cremains) are kept in a place of dignity and security, there is peace of mind and a place to reflect and remember. Memorialization markers record and validate that person's life, ensuring family recognition for generations to come.